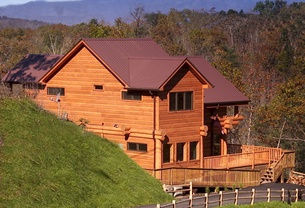 5 BR / 5 BA / 19 PPL - Bryson City, NC
Special pricing has been set up for combining the 2 cabins together. Watershed 11 with 2 bedrooms and Watershed 12 with 3 bedrooms, are walkable between each other via a short path. Pricing these cabins together gives a little bit of price break from just paying the sum of the 2 cabins individually. If either cabin is already booked, then this combo is not available. Also, these cabins are located on our 50-acre tract we call the Watershed Resort. What is the Watershed Resort? We have produced a video to answer that question and many more:

For detailed descriptions of this combo of cabins, please see the individual cabin listings for the Watershed 11 and Watershed 12 cabins.